Cranberry extract - the darling of cosmetics industry
Views: 53 Author: Site Editor Publish Time: 2023-03-07 Origin: Site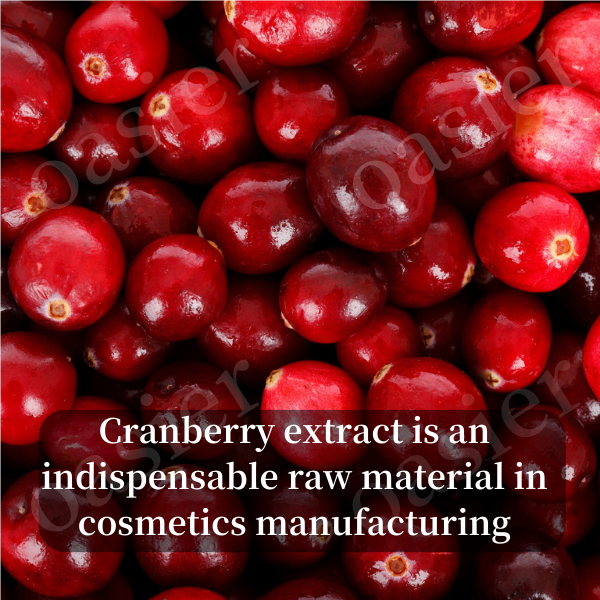 The cranberry extract has become a popular ingredient in the cosmetic industry in recent years. The extract is obtained from cranberries (also known as Vaccinium macrocarpon) which are a small, tart-tasting, dark purple/red fruit rising in North America.

---
The cranberry extract provides numerous skin care benefits. It acts as a humectant that helps to draw water to the skin, which helps to keep the skin hydrated and smooth. It also has antiseptic and antifungal properties which can help to reduce breakouts and the growth of acne-causing bacteria.
Furthermore, it is full of antioxidants which are believed to help fight off the signs of ageing, as well as vitamins and minerals that can aid repair and nourishment of the skin.

These properties of cranberry extract make it a widely used ingredient in a variety of cosmetics. The humectant properties are useful in cleansing products to keep the skin hydrated and make for a more pleasant experience when in contact with the skin.
Similarly, the antiseptic and antifungal properties can help to reduce the presence of acne-causing bacteria in facial cleansers, scrubs and masks, as well as acne spot treatments.
The antioxidant properties make cranberry extract a popular ingredient in many anti-ageing cosmetics such as serums and creams.
Finally, the vitamins and minerals found in cranberry extract make for a nourishing and repairing ingredient for many cosmetics such as facial oils, creams and lotions.

---
Overall, cranberry extract is an increasingly popular ingredient in the cosmetic industry due to its numerous skin care benefits. It is used in a variety of cosmetics such as facial cleansers and scrubs, masks, acne treatments, anti-ageing creams, facial oils, and lotions.
Thus, the cranberry extract is definitely an ingredient worth considering if you are looking to add a bit of natural goodness to your beauty routine.